Main content starts here, tab to start navigating
Rage
3/11/2021

There's a storm that's raging, and it's not just in central North Carolina. Since yesterday, I've felt out of sorts, and finally pinpointed it to the rage I've been trying to ignore.

Rage that eight people, including six Asian women can be killed on a whim and what's being focused on is the murderer's sorry excuse of 'sexual addiction'? Rage that a customer chose to respond to my polite conversation yesterday in a loud voice with exaggerated hand gestures as if I wasn't speaking to him in English? Rage that time and again we as women, as people of color, as people in the service industry have to somehow justify our existence?

Whether we're selling chai, pedicures, medical knowledge or our bodies, as if that gives a boy with a chin beard or a man with a superiority complex the right to devalue our humanity. For those of you reading this who automatically reject this post because it doesn't apply to you or because you're not racist? Good for you - great for you, actually, since you will never have to experience what we do, sometimes on such a subliminal level that it doesn't hit home until later. But that means you have a responsibility: to speak up, to call out your parents or your partners that brush off remarks with, "it's not that serious". "You're imagining things". "Come on, where's your sense of humor?"

Racism and hate, like COVID-19, don't register until you're the one who contracts the virus, or your spouse is lying in the ICU, unable to breathe. Or it's your sister who got raped at gunpoint, and shot. Is this too harsh a read? Doesn't fit in with your image of me selling cookies and chai? Guess what - it takes years to build a skin so thick that I can thrive despite being dismissed as person of value. I sell you cookies, ask about your day, and listen about your therapy session, while inwardly still reeling from a racist comment made to put me in my 'place' just moments ago by someone else. 98 percent of my daily interactions are kind, genuine, and warm. But the 2 percent that aren't? Those hurt, even with a skin as thick as mine.

There is no neat finish to this post, no words of wisdom. Just know that everything you say and do affects someone else. Please make sure people remember you for the right reasons after they've met you. Please do, or at least say something when you are witness to incidents and hold people accountable. And please raise empathetic, kind humans - America desperately needs them.
The End. And a beginning.
1/11/2021

It's January, so I suppose that means we ought to talk about resolutions.

Sure, I'll talk about them - about how the very word irritates the heck out of me. About falling into a marketing trap of hedonism and excess for the two preceding months, and then suddenly depriving ourselves for the one month in the beginning of the year when we could use the most comfort - and for me that means a rich, multi-layered stew, or a fragrant biryani. But this year, especially? I don't think any member of my family is brave enough to try and pry the spoon out of my hand as I dig deep into a bowl of hot jasmine rice and daal.

For my part, I'm going to have to get used to January being the start of the new year. For eighteen years, since I first walked my now twenty year old daughter into her first preschool classroom, the end of August has always felt like the start of all things good - the barely-felt chill in the early mornings, the promise of fall around the corner. New textbooks and sneakers to be broken in; an excitement of who their teacher was going to be and if their as-yet-unmet best friend for life would just happen to be seated next to them in class.

Last week, my youngest child graduated from high school, a semester early. No fanfare, no last day of school trip to the ice cream shop - a tradition we've had for every first and last day of school - no signing of yearbooks, no photos with friends in front of the school mural. Bereft of these traditions, I find myself mourning the loss of PTA meetings as well, and crisp fall evenings selling spirit wear at football games. And so much more.

But, we're alive. We've survived the past year. And I don't mean the pandemic alone. Every bilious tweet, every shock to the system, every attack on the democracy of this imperfect but promising land of opportunity, every breath cut off, every fist raised in protest - we witnessed and lived through it all.

It's time now. To breathe, to take precautions. To put the country in capable hands, to believe in the wonder and truth that is science. And, it's time to celebrate what we can, how we can. Whatever that means to you, do it. A six-pack of fat chocolate chip cookies? Go for it. Champagne that's been chilling since you last moved five years ago? Time to pop the cork. Taking five hours to read a book from start to finish because you're riveted? Bravo, do it again.

Here's to 2021 - may it be a year of reckoning, of celebration, and of return to humanity.
Sharing Biryani with Monkeys
10/22/2020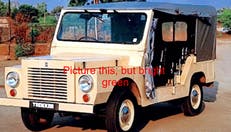 I don't remember how old I was when my father drove up to our door one day in an army jeep. He was most definitely not in the army at that time, and I have no idea how he got his hands on that automobile. It was larger than a jeep, a squat, most unattractive conveyance that still wore its regulation dull grey paint. The 'roof' was stiff canvas that had to be secured tightly to the frame, or it was prone to blowing off while driving above twenty miles an hour, and was no match for the monsoon season. A grinding stick shift topped with a giant knob, non-existent shock absorbers, and no doors or sides - are you getting the picture yet? Inexplicably, my father chose to paint the Trekker (that's what it was called) a bright, shiny parrot green. Let me tell you, that thing turned heads wherever we went.

I do remember vividly that I was ten years old when I was taught to drive this behemoth. I highly recommend learning how to drive in an unwieldy, cantankerous vehicle in Indian traffic. I guarantee you will be able to drive anything, anywhere in the world after that. All of a sudden, my status in my family improved. No longer was I the baby in the family, I was now the on-call, mostly willing chauffeur, driving my mom and her friends to the gurudwara and tasked with errands. Mostly though, that glorious Trekker meant that our family, my aunts, uncles, and cousins, and our dogs could all go places together. And I do mean together, as in at the same time.

Come Saturday, our anticipation would start to build. Preparations would be made, the gigantic biryani pot would be brought down from storage. My mother would wake up early on Sunday to cook biryani, and then the uncles and aunts would start to arrive. My cousins who are reading this will remember - one time, there were twenty three of us in that Trekker. That was not a typo. Pride of place had to be given to the biryani pot however, still steaming hot and wrapped with an old towel to retain heat and finish the cooking process. Once we were all in, sitting on each other's laps and on whatever surface was available, the drive to Fisherman's Cove would begin. If memory serves me correctly, it took about two hours to get there, to this gorgeous, five star beach resort where it would be impossible for us to even afford a ThumsUp. But, you could pay for day use of their sparkling blue pool, and beach access. A few years after we started going there, they stopped this practice. Coincidence? I don't think so. Our family is known for being rather boisterous, to put it politely.

Of course all that swimming made us ravenous, and we kept popping our heads towards the mothers, who decided when it was time for lunch. At which point we would pile back into the Trekker, and drive off the fancy resort property, to park under the shade of an ancient banyan tree. When my mom broke the seal of the pot and opened the lid, I swear you could smell the aroma of that biryani a mile away. That tree provided the perfect shade under a scorching coastal sun, but also housed a rather large monkey population. We were not inclined to share even a tiny bit with them, and they weren't going to share their tree with us politely. The more we hoarded our food and shooed them away, the more emboldened they became. They managed to steal our food sometimes, and at other times we prevailed. We have our fair share of anecdotes under that banyan tree with those monkeys.

The drive back as the sun was setting always had us sleepy, but sated. Our hair stiff with drying salt water, and our skin sunburned. Waiting for our turn to shower when we returned home, and dreading school the next morning. But the hope of another Sunday, another day at Fisherman's Cove, another pot of biryani, and another battle of wills with monkeys kept us going until the next time we piled into the Trekker again.

Pictured below, on the playground at Fisherman's Cove. Circa 1983, I think.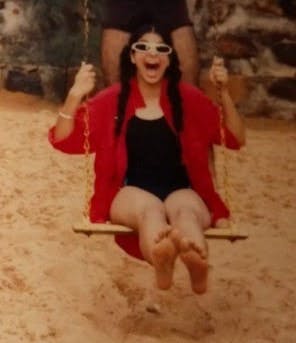 Land of My Heart
8/25/2020
Rani, our live-in housekeeper-turned-essential family member came to us when I was eleven years old. Right away, I knew she was different from any of the other household help who had worked for our family. Her gender and upbringing demanded that she be quiet, and subservient. Her dark flashing eyes said otherwise. She refused to give us a straight answer about her past, or her family. All we knew was that she was married off at a very young age to an older, abusive man. Hired as an assistant-of-sorts to our older, bossy housekeeper, we frequently found Rani mumbling under her breath about how she could cook anything better than 'that woman' - that part turned out to be true. She was belligerent, vain about her long, thick braid that fell past her hips, and was usually in trouble with my demanding mother for one thing or another.

Almost thirty eight years later, she still won't tell us how old she is, except that "it's probably no more than forty". Her cooking is legendary within our family and well beyond. Her cold coffee and 'lime juice' (limeade, with salt and pepper added, then blended with ice) is the first thing visitors ask for the minute they walk in the door. She is loving, but quarrelsome. The children in our household had no protector more fierce than her. Rani holds her recipes and tricks of the trade close - she believes them to be the source of her power, and guarantee of her place in the family.

Sunday mornings were for sleeping in. But it was a struggle to stay in bed, because every Sunday morning, we woke up to the aroma of sambhar, and went downstairs to a full South Indian feast that took Rani the better part of two days to prepare. First, the rice and dal had to be soaked, ground, and fermented to make the batter for pillowy idlis and thin, crisp dosas. Then came the various chutneys: coconut, roasted tomato, and peanut. Then of course, the prep for sambhar. And if she was feeling kindly towards me during the mango season, there would be pieces of raw mango in the sambhar - my favorite. Come Sunday morning, Rani stood over the stove for hours, making dosas to order for our family with hearty Punjabi appetites.

Our next guest chef for Spice Route Kitchens comes from the land of my heart - Tamil Nadu, in South India. I hold within me the sounds of ragas being practiced through open doorways, and the smell of salt in the air leading you to the roar of the ocean. Nalli's, with it's five stories of silk, and Pondy Bazaar during Diwali. Corn roasting over a brazier at Marina Beach, then liberally dusted with salt and chili powder, plus a squeeze of lime. Long drives up the coast, and incomparable fish at Fisherman's Cove. Memories too numerous, and too personal to recount. Through it all, Sunday morning idlis, sambhar, dosas and chutneys have been a constant. Thank you for allowing me to share them with you, at least for one week.
From China with Love...
8/17/2020
Being neighbors, it's not surprising that India and China share many similarities: strong family values, ancient civilizations, generations living under the same roof, and the importance of food in the culture.

A bowl of rice signifies fertility, luck, and wealth, and is considered a symbol of the link between the Gods, and humans. Back-breaking work goes into the planting, transplanting, and harvesting of rice, so it's not surprising that rice is revered. It is supremely endearing to me how, when sitting around the table sharing a meal, elders will pick out choice morsels from the serving bowl and place them lovingly into the bowls of children, or guests. That spirit of sharing, loving, laughing, and learning around the table is what we hope to bring you through our next guest chef for Spice Route Kitchens.
Wendy Pannell is really funny; she is also a hardworking, travel-loving single mother who immigrated to the States decades ago. Upon tasting her first burger at Wendy's, the fast food chain, she loved it so much that she appropriated the name for herself - and in her words, saved other people from mispronouncing her Chinese name. When she brought us some of her food to sample, I have to admit it looked ordinary enough. I mean fried rice is fried rice, am I right? WRONG! Wendy's cooking surprises. It has familiar dishes like fried rice and Dan Dan noodles doing a number on our taste buds. You find yourself taking the next bite immediately after the first, while trying to identify what makes it just so dang delicious. And let me tell you - I grew up eating some delicious Chinese food, both home-cooked and in fine dining restaurants in India.
So trust me - order one of everything from her menu - you'll be coming back for more before her week as our guest chef is over.
Order online at https://www.cheeniraleigh.com/spice-route-kitchens.html#/, and you can thank us later.

From Chai to Chayote
8/2/2020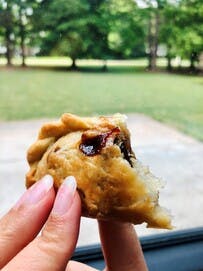 I know one, but not the other. As much as I relish great food, Latin American cuisine has held both familiarity and intimidation. Familiarity because so many of the ingredients are essentially Indian - rice, beans, cilantro, tomatoes, chiles. Intimidation because I don't know enough about it, and therefore am not qualified to know good from mediocre. Or so I thought.

First one, and then several tastes of food made by a real-deal, accent intact, fierce foodie and chef later, all I knew was that I wanted it all. And then some. The mere mention of food cooked by her is enough to get my younger daughter drooling, while my carb-free, diet-conscious older child will sit down with an entire tray of Pastellito de Guayaba con Queso made by her, and polish them off.

Columbus, upon his failure to find India, and possibly trying to pass off his discoveries in America as vaguely Indian, brought chilis back with him and called them peppers, in lieu of returning with actual peppercorns. Africa and Latin America became the repositories of seeds, spices and plants from both sides of the world, and boy has the cuisine benefitted!
Brazilian chef Ana Claudia Tapioca of Global Comfy is our guest chef of the week, bringing you dishes from various countries in Latin America. If you've ever been fortunate enough to attend a cooking class taught by her, you already know the prodigious amount of culinary knowledge she carries in her head, which is charmingly topped with her kinky curls. That knowledge is translated into sheer magic on a plate - fiery but balanced sauces, esquite rice that I still dream about, succulent pork with lacquered skin the color of dark caramel...I could go on and on.
Spice Route Kitchens is designed to bring you the true cuisine of a region, not just the familiar versions served in restaurants. To that end, this week's menu from Ana made me want to lick the screen when she sent it to me, and I don't even know what most of these dishes are! We think you will share the sentiment.

Follow along on social media @cheeniraleigh to keep an eye out for the menu, which we will release before Wednesday. We're working through kinks in ordering, deliveries etc., as true to form, I put more thought into the food than the logistics. Given the deliciousness and variety that we are bringing to you, I hope that you will be willing to overlook some of that. Stay tuned!
An Army of Aunties
7/20/2020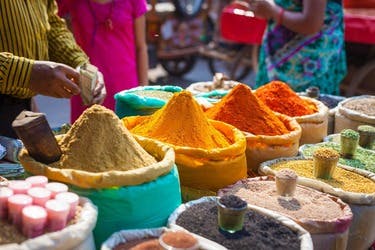 If the word 'spice' conjures up a dusty bazaar, where a vendor stands behind his open-air stall with jewel-hued ground spices arrayed in fragrant mounds before him, you would be accurately describing a scene from my childhood. There was one vendor at the market a stone's throw away (literally) from my aunt's house, whose spices tickled your nose even before you spotted his stall. Whatever you needed was carefully weighed out on a tiny brass weighing scale, before being handed to you in a twist of day-old newspaper.

Spices and silk as currency shaped our world, and its history. That's what Magellan and Columbus were in search of, and one of them stumbled upon the treasure of this new world that became the United States of America. The spice route stretched from the Far East to India, touched points along the Middle East, and ran along the eastern coast of Africa before rounding the Cape of Good Hope and making its way to Europe and the Americas.

While my childhood dream of traveling the world as a professional eater alas did not come true, now more than ever I find myself craving the foods from lands far away. Enter Spice Route Kitchens: what if, for one week at a time you could enjoy the foods of a home kitchen along the spice route? Vietnam one week, and Brazil the next? South Indian home cooking and Thai street food? Salmorejo and bitter gourd?

As we reopen in the upcoming week, we see an opportunity to bring you food from places you can't travel to, made by people who haven't had access to a licensed kitchen in which to cook it, until now. Historically, men have traveled the world, plundering nations for their treasures - whether those were lumber, spices, precious stones, or people. We propose healing the world one plate at a time, with food cooked by women of all nationalities and ethnicities. In India, we grow up with an entire community of 'Aunties', none of whom are related to us by blood - they are part of the village it took to raise us. For the next several weeks, we have Aunties from North and South India, Brazil, China, and Vietnam cooking up their specialties for sale at Cheeni. Follow along on social media for updates, menus, and more. The Army of Aunties is looking forward to serving you.


Shopping While Indian
7/12/2020
The majority of my great childhood memories were made in Delhi, where my maternal uncles, their wives, and my five cousins lived together. At the beginning of summer vacation, we would take the train from Madras to Delhi, and make the thirty six hour journey in what for me, was pure bliss. The entire train ride passed with food, snacks, and more food, all while reading to my heart's content - the one time my mother did not object to my nose being buried in a book. Each station that we pulled into along the way marked the transition from one state to the other, as we eagerly waited to buy Nagpur's famed oranges and aam paapad (mango fruit leather) from Vijayawada, with transactions taking place between the bars of the train window.
Delhi, with its delectable street food, hot fudge sundaes from Nirula's, the best pakoras on the planet just one short flight of steps down from my uncle's apartment, and the most delicious food cooked by my mamiji at home had me anticipating our vacation months in advance.
The highlight of each week however, was Budh Bazaar. Every Wednesday (Budh short for Budhvaar, which is Wednesday in both Hindi and Punjabi), there was a street market in the main bazaar, with vendors selling everything from brightly colored glass bangles to 'imported' rubber flip flops; red and gold wedding scarves to discarded (or stolen) flatware with the Air India logo stamped on it. On a trip to India last year, it made to laugh to still see a lone spoon with this logo in the drawer. The real prize for me was at the end, when we got to buy a cold, creamy popsicle of kulfi from the street vendor.
We've been very happy with the response from customers with our presence at Moore Square market, an outdoor event held every Wednesday in downtown Raleigh. This past week, we arrived late, and didn't bring a tent. Just as we had finished setting up our baked goods, jams, and ice creams, we heard the thunder, and watched as the dark storm clouds rolled in. Moving quickly as fat raindrops hit, we opened the back of our SUV, which was thankfully parked just behind us, and set up shop. Although we didn't have too many pedestrians braving the downpour to come shop at market, we had pre-sold all of the ice cream we brought with us - the first time we were introducing our mango kulfi and coffee ice cream.
It didn't hit me until we were returning from market: here I was, decades later, in a completely different country, participating in my own Budh Bazaar, selling kulfi. The world has spent years building enormous malls, and fancy buildings, then filling them with boutique shops selling spices, gourmet street food, and produce procured from local farmers. Now, ironically, those spaces sit like ghost ships underwater, while farmers, bakers, butchers, and kulfi makers sit in open outdoor spaces selling their wares. The pandemic has deemed markets essential, and safer than supermarkets and grocery stores. Social media was our escape from people, and now we seek people after too much time being forced to look at screens. Polite smiles used to mask our feelings about certain people, and now masks force us to look in a person's eyes, and there's nowhere to hide.
Having come almost full circle, we would like to make the case for more old-fashioned shopping. Meet the people who grow, and prepare the food you buy. Give them the opportunity to sell their goods where they can actually see the benefit in their profit margin, without handing it over to middlemen and high rent. Know who you are supporting. I'd like to make the case for all things Indian to be accepted into the mainstream, just as you've accepted samosas and chicken tikka masala. Well, maybe not all things - we're trying to unlearn behaviors from the time we were colonized too, plus the economic disparity is just shameful.
But, all the good things, like India's legendary hospitality and the ability to make something out of nothing. Like holding one's elders close, and taking care of them like they once cared for us. The importance of education. Markets where the people who went out fishing at dawn are the ones selling you the fish that very morning. As for us, the hands that made the food will always be the ones to serve you, whether at Cheeni, Midtown Market, or our American Budh Bazaar.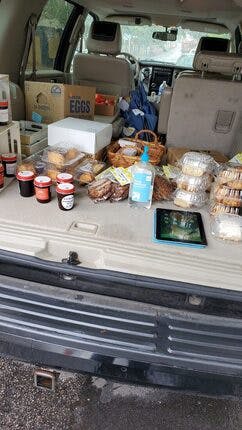 We Didn't Light the Fire
6/29/2020
The Declaration of Independence did.

Fireworks are lit in India during Diwali, a festival celebrating the victory of good over evil. Light, in loud, showy form, to drive out the darkness. Any number of cultures and religions across the world look up to the light, hold it up as a literal beacon of all that is good and triumphant. We are taught to strive for the light, our entire lives in pursuit of illumination - in the form of education, through prayer, and self-betterment. Then, just as we are getting close, or what the powers-that-be deem close enough, it is quelled. Don't seek any more answers. Be content with the status quo. Don't cause trouble. Stay within your boundaries (who creates these??), and life will be just fine.

And then there are those of us who say, "no - not enough". Let me past the border to access opportunities you are accidentally born to. Give me the place you denied my ancestors. Don't shut me out of public offices rife with nepotism and corruption; allow me to come in and change the culture. Hear my voice. Let me breathe.

The way forward is often shaped by the past. Sometimes, you emulate it, and other times, it needs to be thoroughly rejected and changed. In the spirit of true patriotism, allow me to shine a light on these words from the Declaration of Independence: 'WE hold these Truths to be self-evident, that all Men are created equal, that they are endowed by their Creator with certain unalienable Rights, that among these are Life, Liberty, and the Pursuit of Happiness--That to secure these Rights, Governments are instituted among Men, deriving their just Powers from the Consent of the Governed, that whenever any form of Government becomes destructive of these Ends, it is the Right of the People to alter or to abolish it, and to institute new Government, laying its Foundation on such Principles, and organizing its Powers in such form, as to them shall seem most likely to effect their Safety and Happiness.'

Life, Liberty, and the Pursuit of Happiness are bandied about frequently by people who say it only when it applies to them. What about all men and women? I don't see anything in there that excludes certain people, do you? So, when elected officials and law enforcement neglect to uphold this all-important tenet, and in fact aid and abet in destroying it, it is natural to move on to the next portion - that of the right to abolish, or alter it. Now, which red-blooded American is going to argue with the words of the Founding Fathers? Why, all the protests are nothing but the highest form of patriotism, are they not?

Slaves had their feet held to their fire in public squares to torture them into confessing frequently false allegations. When reason and pleading are ignored, it becomes necessary to light a fire. Let's keep the fire lit, America. This time, hold the feet of all that is broken, ugly, and wrong to the cleansing fire of truth and humanity. We won't give up until we can see, and enact change.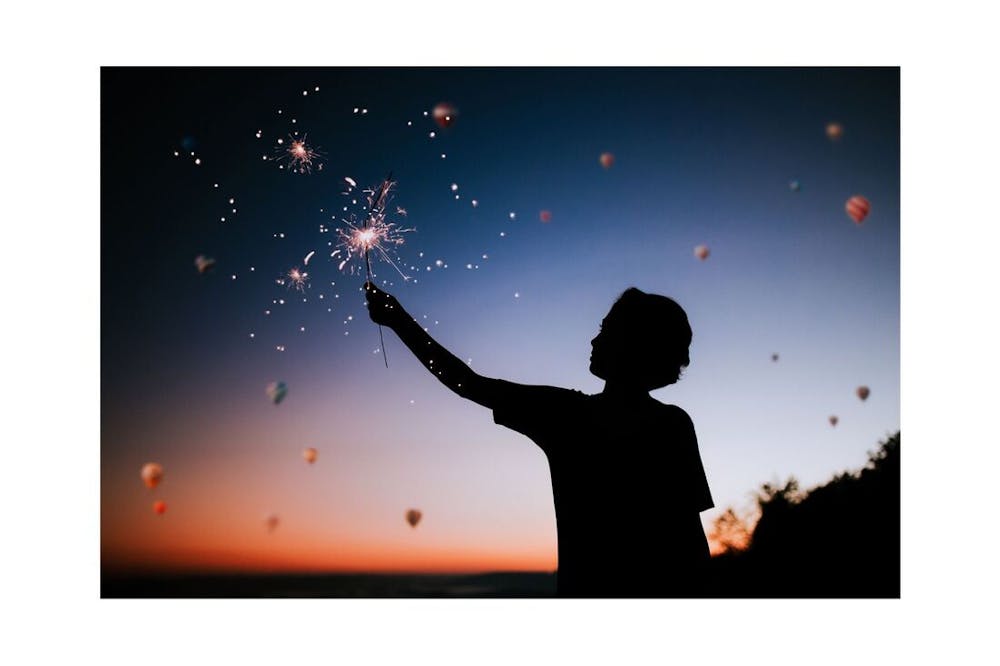 Shrimp & Grittiness
5/30/2020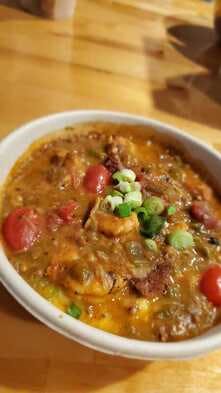 It is well known in my family that if we go out to a restaurant and the menu offers shrimp and grits, that is what I will inevitably order. And I do that not because I don't have a diverse palate, but because for several years I've been seeking the perfect bowl - which has been elusive, to say the least. In my quest, I've had some that were too 'fancy', some that were too bacon-heavy, some too sweet with tomatoes. I've had some sublimely delicious ones, including one that was a riff on South Indian upma and sambar, but still didn't satisfy what I was searching for.

And then yesterday, I had the perfect bowl: the grits retained some of their 'grit', but were creamy and unctuous, the shrimp plump and cooked to perfection, and then there was the sauce - briny and bayou-reminiscent, in the best possible way. It made me think of the slaves who were given the most meager rations, including the grittiest part of the corn kernel, and expected to produce back-breaking labor. Grits that did not provide enough nutrition to thrive, but survive just long enough to return the investment made into their purchase, room, and board. Through the years, when able to forage and fish, Creoles first made the grits not just palatable, but comfort-inducing, and then crave-worthy by adding shrimp poached in spices that were the only memory of home that they could recreate time and again.

You'll pardon my irritation then, when after consuming (notice I didn't say enjoying) a bowl at an acclaimed restaurant that touted its regionally sourced ingredients last year, I learned that the grits with a Gullah name didn't come from Gullah pedigree. That the ingredients were indeed fresh and local, and the dish prepared with technical precision, but it had no soul. That restaurant may be located in the land of haint blue porch ceilings, in a city built by black islanders, but the slave market still standing in the middle of town was no more than a building to them, not a place where ghosts still searched for their stolen children.

Now, more than ever, I would like to see diners in this country not just rave over 'ethnic' and 'soul' food with its nuanced and complex flavors, but see those same nuances and complexities in the people who cook, and serve it to them. I'm not just an immigrant with an accent. My children are not just bi-racial. Black people are not just black, they are descendants of dynasties, tribes, and communities they cannot even trace. They give their children names that have dignified meanings in the old country, only to have them mocked by people who choose not to inquire about their origins. Oftentimes I have observed a black woman with queenly bearing and it makes me wonder what her life would be like now, if her ancestor hadn't been stolen from their kingdom.

It's lazy to look at someone and assign them an identity based on the color of their skin. Get to know someone first. Listen to their story. Think about the skills and grit it took for their ancestors to survive atrocity upon atrocity, and still possess the optimism to start a family. Compassion, kindness, and humanity make for a society worth inhabiting, but grit - that ability to make it no matter what is thrown your way - that builds strong people and societies, and towns and cities. Please, allow people of color - black men especially - who carry this grit deep within their DNA - to live. Give them hope, and the room to grow while making mistakes. Stop killing them for those things, and in some cases for no reason at all. Let them breathe, as you've been able to.